0.9% APR FOR UP TO 36 MONTHS. TURBO SELECT, TURBO PREFERRED, TURBO PREFERRED PLUS, TURBO PREMIUM, OR TURBO PREMIUM PLUS TRIMS ONLY. TURBO SELECT, TURBO PREFERRED, TURBO PREFERRED PLUS, TURBO PREMIUM, OR TURBO PREMIUM PLUS TRIMS ONLY. 0.9 OFFER AVAILABLE UP TO MAX 36 MONTHS AVAILABLE FOR WELL-QUALIFIED APPLICANTS ONLY. NOT ALL CUSTOMERS WILL QUALIFY FOR CREDIT APPROVAL, ADVERTISED APR. TAX, TITLE, LICENSE, OTHER OPTIONS, LOAN ORIGINATION FEES AND DEALER FEES MAY APPLY. THE AMOUNT OF INTEREST YOU PAY WILL INCREASE BECAUSE FINANCE CHARGES ACCRUE FROM THE CONTRACT ORIGINATION DATE. VOID WHERE PROHIBITED. THIS OFFER IS ONLY AVAILABLE ON PARTICIPATING MAZDA DEALER'S CURRENT INVENTORY, WHICH IS SUBJECT TO AVAILABILITY. OFFER ENDS 12/1/2023 AND YOU MUST TAKE DELIVERY PRIOR TO EXPIRATION OF OFFER. SEE PARTICIPATING MAZDA DEALER FOR COMPLETE DETAILS.
Includes $7,500 CX-90 PHEV EV Tax incentive, $500 Mazda Loyalty Cash and $500 Mazda Military Bonus Cash. MAZDA LOYALTY REWARD PROVIDES $500 FOR CURRENT MAZDA CUSTOMERS WHO PURCHASE OR LEASE A NEW AND UNUSED 2022, 2023, OR 2024 MAZDA VEHICLE. THE REWARD MAY BE COMBINED WITH PUBLIC OFFERS, INCLUDING LEASE OFFERS, CUSTOMER CASH BACK, AND APR INCENTIVES/OFFERS. CUSTOMERS MAY COMBINE MAZDA LOYALTY REWARD WITH MAZDA MILITARY APPRECIATION BONUS CASH. ADDITIONAL PRIVATE INCENTIVES MUST SPECIFY COMBINATION WITH MAZDA LOYALTY REWARD. TRANSFERABLE WITHIN HOUSEHOLD (MUST LIVE AT THE SAME ADDRESS). PROOF OF ELIGIBILITY AND RESIDENCY REQUIRED. MUST PRESENT DEALER WITH CURRENT REGISTRATION TITLE, CURRENT MAZDA SALES CONTRACT OR MAZDA FINANCIAL SERVICES AGREEMENT AND VALID DRIVER'S LICENSE. CERTAIN RESTRICTIONS MAY APPLY. MAZDA MILITARY APPRECIATION BONUS CASH PROVIDES $500 TOWARDS THE PURCHASE OR LEASE OF A NEW AND UNUSED 2023 OR 2024 MAZDA VEHICLE. MILITARY APPRECIATION. MUST BE A U.S. RESIDENT. PEOPLE ELIGIBLE FOR THE MILITARY APPRECIATION INCENTIVE INCLUDE ACTIVE UNITED STATES DUTY SERVICES MEMBERS, RESERVES, RETIREES, OR DISABLED VETERANS. ADDITIONALLY, ANY SERVICE MEMBER WITHIN 2 YEARS OF SEPARATION QUALIFIES WITH HONORABLE DISCHARGE FROM ONE OF THE FOLLOWING UNITED STATES BRANCHES: AIR FORCE, ARMY, NAVY, MARINES, NATIONAL GUARD, SPACE FORCE, COAST GUARD. A MILITARY RETIREE IS SOMEONE WHO HAS SERVED AT LEAST 20 YEARS IN A UNITED STATES ARMED FORCE. FAMILY INCLUDING SPOUSE AND CHILDREN ARE ELIGIBLE BUT MUST LIVE AT THE SAME ADDRESS. TRANSFERABLE WITHIN HOUSEHOLD ONLY. PROOF OF ELIGIBILITY REQUIRED COPY OF LEAVE AND EARNINGS STATEMENT, DELAYED ENTRY/ENLISTMENT (DEP) FORM, OR VETERAN/RETIREE (DD-214) FORM AND COPY OF CURRENT DRIVER'S LICENSE. LIMIT TWO MAZDA MILITARY APPRECIATION BONUS CASH OFFERS PER PERSON, PER YEAR. CERTAIN RESTRICTIONS MAY APPLY.
$259 A MONTH / 36 MONTHS. $3,999 DUE AT LEASE SIGNING. 10,000 MILES/YEAR. NO SECURITY DEPOSIT REQUIRED. MONTHLY PAYMENT INCLUDES $650 ACQUISITION FEE. EXCLUDES TAX, TITLE, LICENSE, AND DEALER OPTIONS AND CHARGES. TERMS AVAILABLE ON APPROVED CREDIT ONLY TO VERY WELL-QUALIFIED LESSEES THROUGH MAZDA FINANCIAL SERVICES AND PARTICIPATING DEALERS. LEASE EXAMPLE BASED ON VEHICLE MSRP OF $22,950 PLUS $1,375 DESTINATION CHARGE. PAYMENT BASED ON CAPITALIZED COST OF $21,755. DEALER CONTRIBUTION MAY VARY AND COULD AFFECT LEASE PAYMENT. INDIVIDUAL DEALER PRICES, OTHER TERMS AND OFFERS MAY VARY. MUST LEASE FROM PARTICIPATING DEALER'S STOCK AND TERMS ARE SUBJECT TO VEHICLE AVAILABILITY. LESSEE RESPONSIBLE FOR MAINTENANCE, EXCESS WEAR AND USE, AND WILL PAY $0.15 PER MILE FOR ALL MILEAGE OVER 10,000 MILES PER YEAR. PURCHASE OPTION AT LEASE END FOR $15,082 PLUS TAX. $350 DISPOSITION FEE IS DUE AT LEASE END. OFFER ENDS 12/1/2023 AND YOU MUST TAKE DELIVERY PRIOR TO EXPIRATION OF OFFER.
One Person
We keep it simple so you're not left waiting around. Our sales people are experts in every single part of the car buying process. With just one person able to take you through the entire experience you'll be on the road in no time.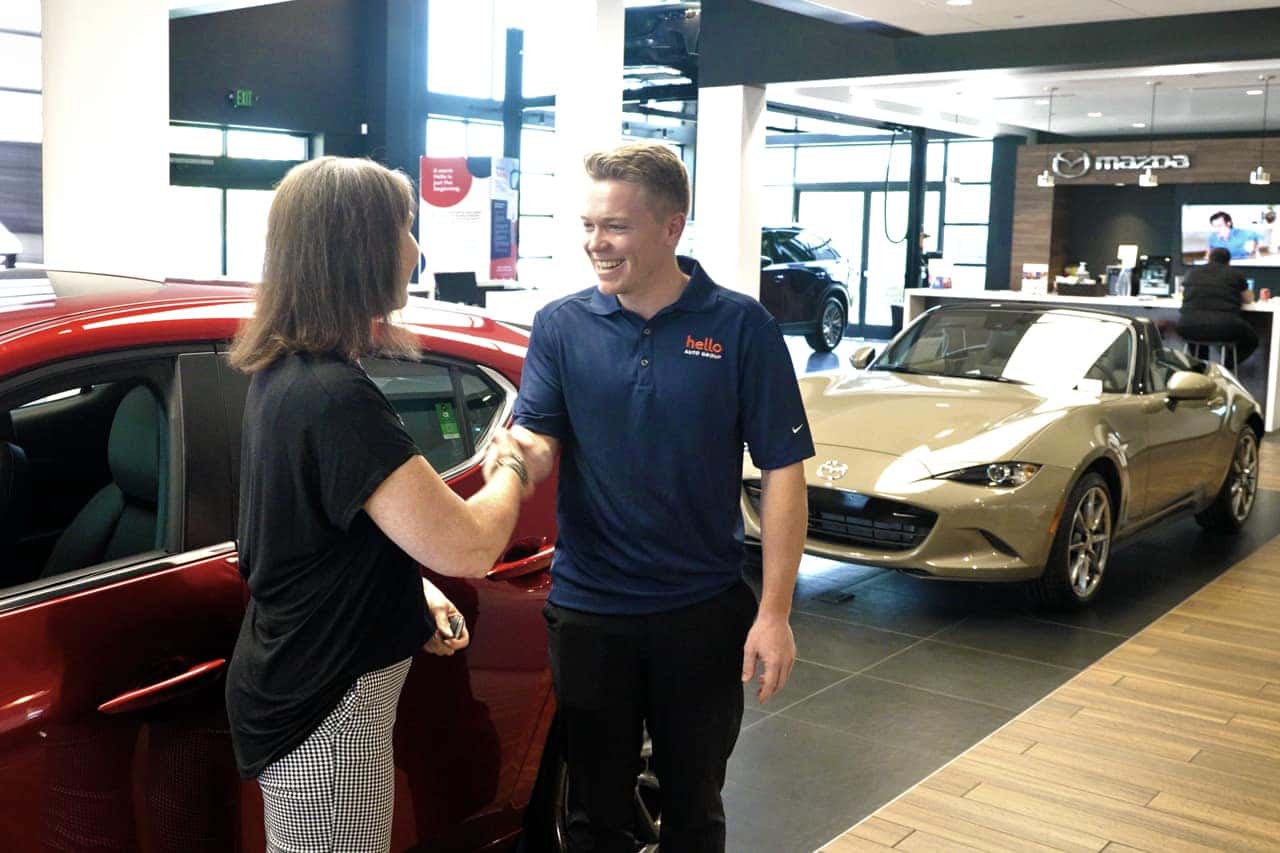 One Price.
We discount our vehicles and mark them with lowest prices we can offer: our Upfront Prices. It means there's no stress; you'll never be left wondering if you could have gotten a better deal or how much you'll have to pay for a vehicle. At Hello Mazda of Temecula, you'll get a great deal without any worries.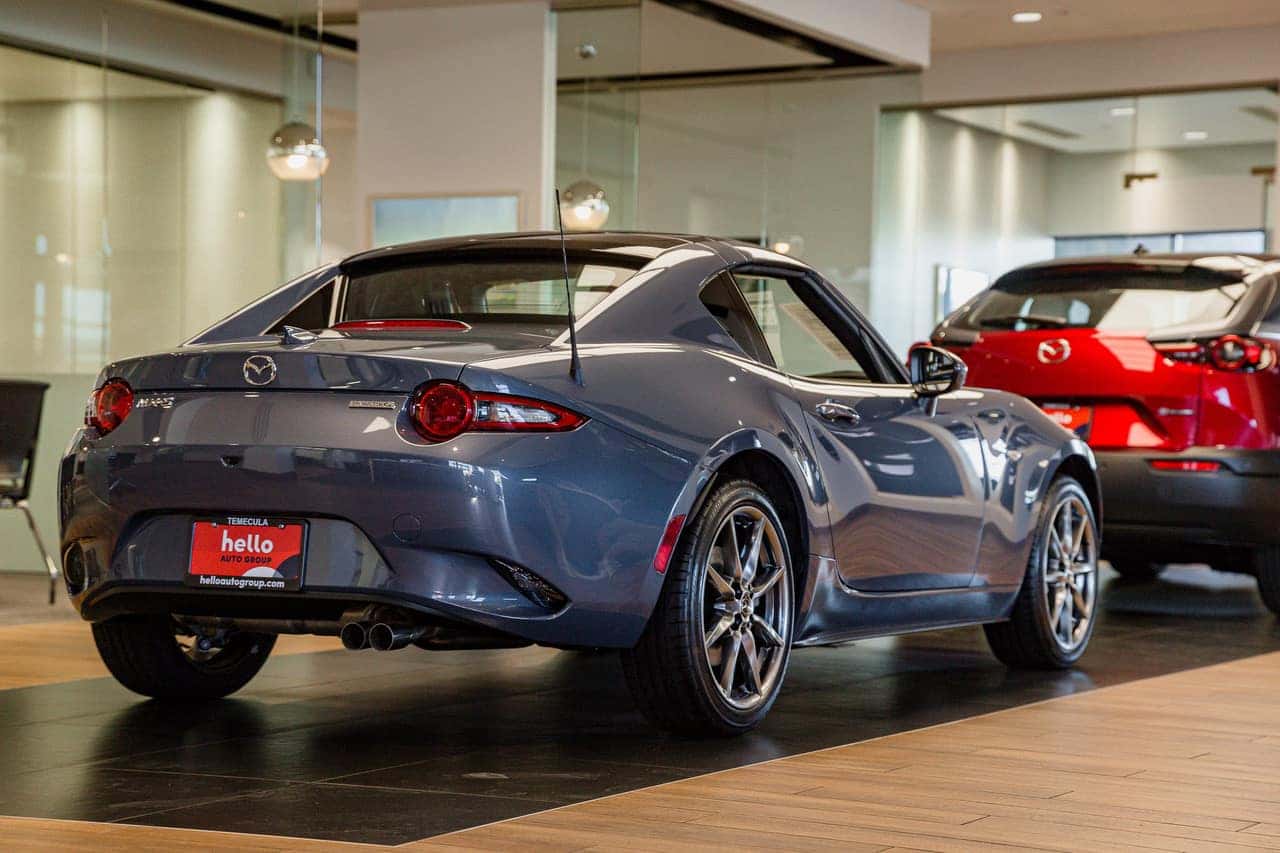 Our Service Is Unmatched
The service team at Hello Mazda of Temecula has been factory-trained to provide you with exceptional service and ensure your vehicle is performing at its best.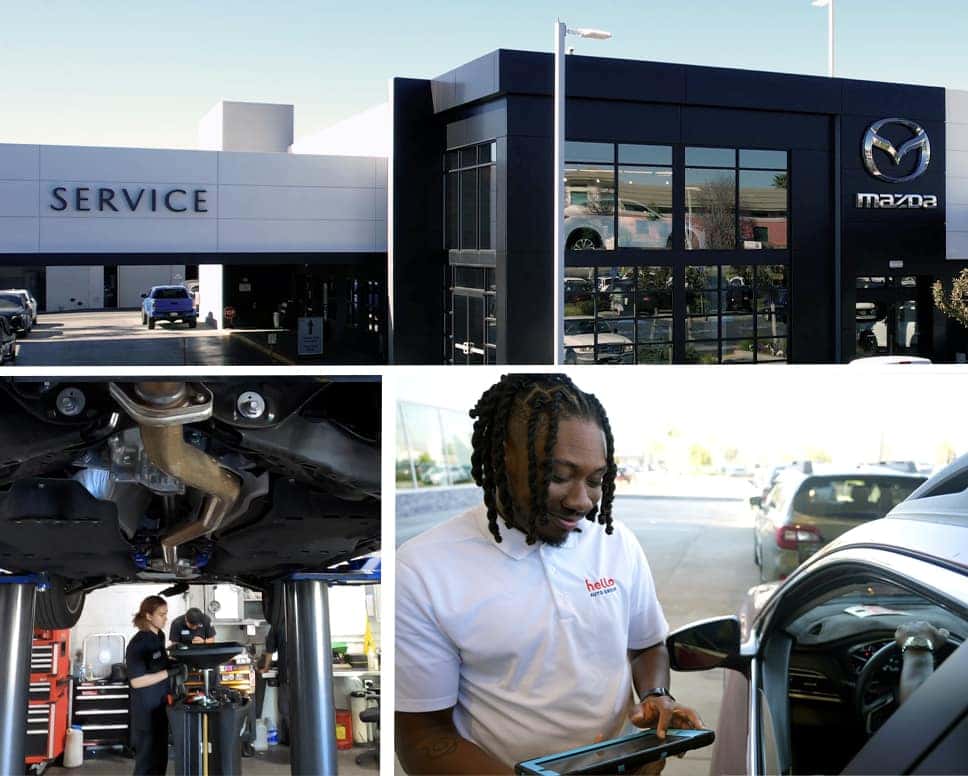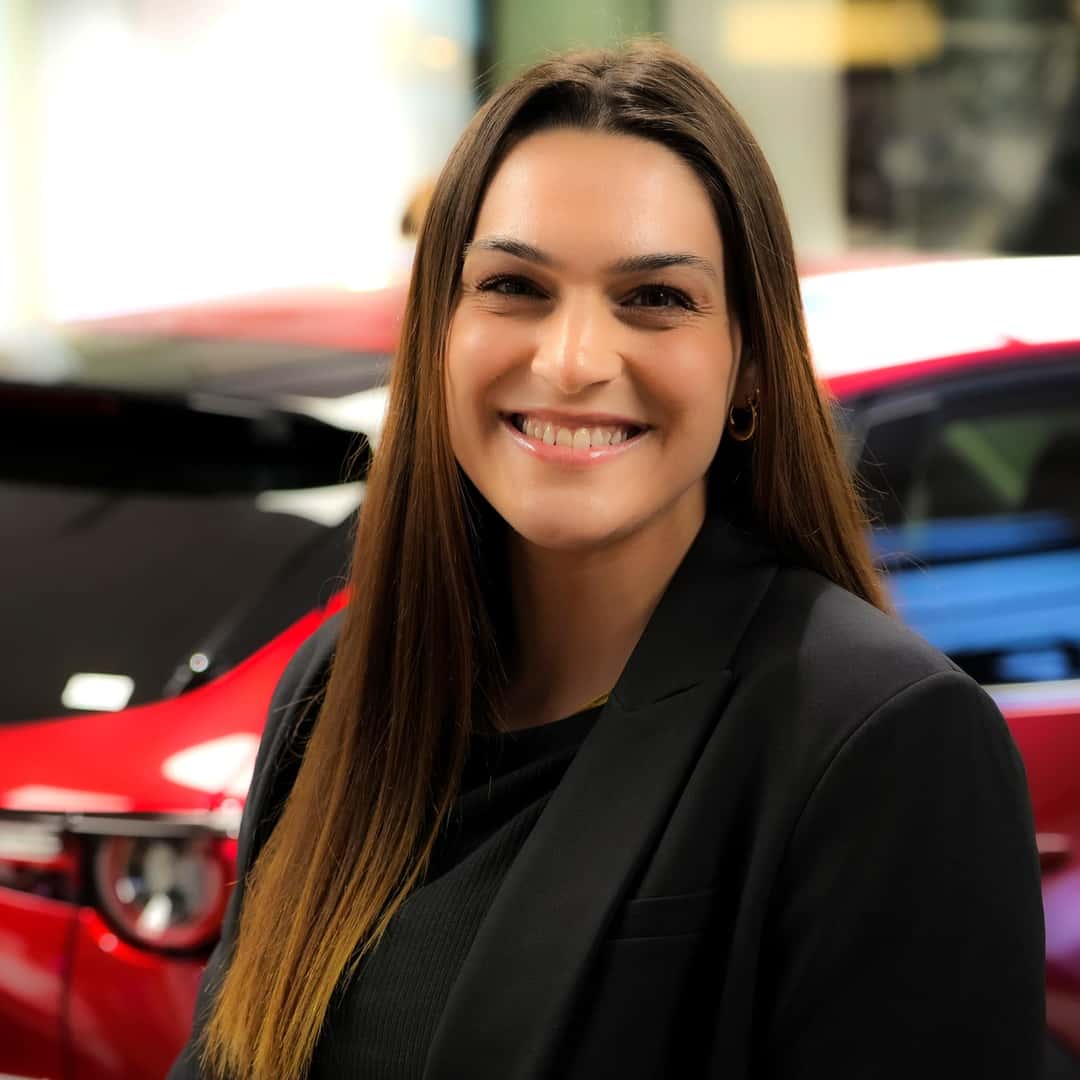 Why Buy From Hello
Hello Price Pledge. No Games. No Gimmicks. The price you see is the price you get.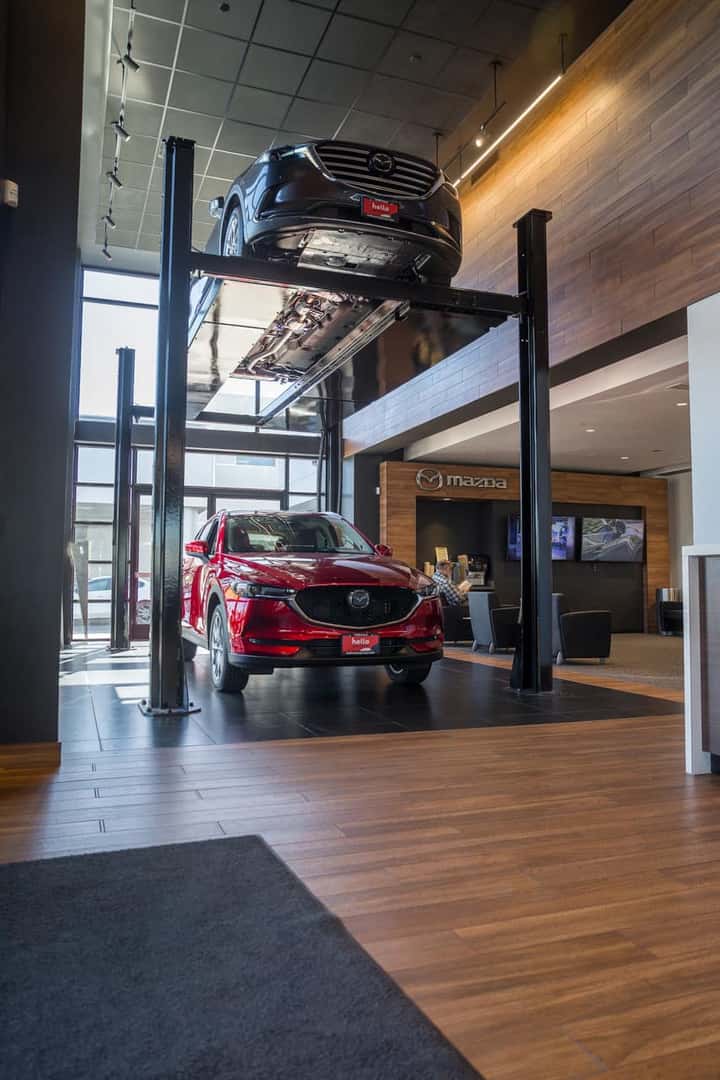 Welcome to Hello Mazda of Temecula
Thank you for giving our Mazda dealer in Temecula the opportunity to serve you. We've got a complete inventory of new and pre-owned vehicles for you to explore as you premier Temecula new car dealer. Our inventory has something to suit your exact Murrieta lifestyle. From an advanced new Mazda to a high-quality pre-owned vehicle, our Temecula used car dealer is ready to assist you.
But, we want to be more than just your standard Temecula new car dealership, and Temecula used car dealership. That's why we provide a team of experts that can help keep your vehicle on the road for many years to come. Whether you're just beginning the car-buying process or you need advice on maintaining your current ride, Hello Mazda of Temecula is here to help!
At the other Temecula new car dealers and Temecula used car dealers, the car-buying process often immediately becomes stressful when you need to apply for financing. Fortunately, we do things differently here at the financing center here at Hello Mazda of Temecula. We've been in the business for over many years, so you can count on our expert finance team to have the experience to work with different kinds of credit backgrounds.
It doesn't matter if you've got an excellent credit score or your credit needs some work, the finance team at our Mazda dealer in Temecula is understanding and knowledgeable enough to assist. If financing isn't right for your budget, we can even help you with leasing options so that you can tackle Escondido adventures in no time. Give our finance team a visit today to get started.
You don't have to be on your own after you purchase a vehicle from us. Unlike other Temecula new car dealers and Temecula used car dealers, we want to help you continue to succeed after you leave our showroom. We know how stressful it can be if your vehicle breaks down and you're stranded on the side of the road in Corona. However, when you work with our service and parts team, there's one less thing you'll have to worry about.
Our service technicians know your vehicle like the backs of their hands, and our parts experts have a comprehensive inventory of genuine OEM parts and accessories available for you to browse. If you're looking for friendly service and genuine Mazda parts, look no further than our service and parts department.
We're proud to serve customers in the Temecula area and beyond. We've been doing this for over 60 years, and there's a reason many of our customers continue to come back to us. Stop by today at Hello Mazda of Temecula to explore a tremendous inventory of vehicles and experience a transparent and easy-to-work-with team. Visit us in person today, contact us online, or give us a ring at (951) 954-0114 if you need assistance with anything!
Get Directions
We are located at
42050 DLR Drive
Temecula, CA 92591